UPDATE 1/30/09: Tuesday passed away today. Please continue to pray for the family for peace and strength.
Please pray for this family and beautiful Tuesday: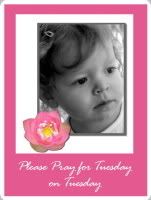 This Mom just found out today that her daughters cancer doubled in size, and is horribly aggressive and no longer chemo sensitive.
I could never imagine.
Please PRAY!